Podcast: Vol. 120 – July 19th Season Premiere!
| | |
| --- | --- |
|  Welcome back! Three musicals stop by for exclusive in-studio performances! This week we meet with Idol the Musical, and we will hear two songs from the show. We talk to The People vs. Mona, and hear a few songs from that show. Also with us are Broken Watch Productions with Two Thirds Home. And Mod performs two songs for us before heading over to the Edinburgh fringe. | |
*note* Performances from "People Vs. Mona" have been edited out at the request of actor's equity.
Up Close
Idol the Musical
Many "American Idol" alumni have recently performed on Broadway, but now the show has inspired a musical of its own. This week we talk to Idol the Musicals' producer, Todd Ellis, composer/lyricist/performer, Jon Balcourt, and performers, Babs Rubenstein, Jennie Riverso, Courtney Ellis, and Roy George.  We also hear two songs from the show, "Prima Donna Fabulous" and "Simon Says".  Based on the "American Idol" fanbase, the musical is a satire of the worship of recent "Idol" runner-up, Clay Aiken. It takes place in a small town in Ohio, where a group of quirky high school students, who belong to a club in which they worship a shrine to Clay, are getting ready for their graduation. Recently produced in Syracuse, the show is now running Off Broadway at the 45th Street Theater and began previews July 5th.
The Callboard
 Every Thursday in Bryant Park stars from your favorite musicals come out and sing! Coming up:
Thursday, July 19: Avenue Q, Rent, Tarzan, The Drowsy Chaperone and The Phantom of the Opera (Hosted by Christine Nagy)
Thursday, July 26: Curtains, Spamalot, Stomp, The Lion King and Xanadu (Hosted by Karen Carson)
For more information click here
Next week a whole slew of new people join A Chorus Line.
Ashley Spencer (of "You're the One That I Want" fame) joins the cast of Hairspray.
Grease begins previews on July 24th
and High School Musical tours Chicago!
MITF – Broadway Bullet: DIY Series Podcast
Midtown International Theatre Festival runs until Aug. 5th. More info at www.midtownfestival.org Check out our podcast series on the event. It's a special feed and can be found at www.broadwaybullet.com/diy
On The Boards
 People vs. Mona
 We meet with Jim Wann, the composer/lyricist/co-author of the book, and with director/producer, Kate Middleton. Daniel Bailey accompanies Mariand Torres and Richard Binder in three songs,"Tippo", "Lockdown Blues", and Come on Down to Tippo". This is Jim Wann's first musical since the award-winning Pump Boys and Dinettes, which launched the career of Debra Monk, among others. A little bit love story, a little bit courtroom drama, the musical comedy in Tippo, Geroge. It's about the trial of Mona Mae Kitt, who owns a popular hangout in town, and is charged with her husband's murder. If she's convicted, she will have to go to jail, and her attorney has never won a case against the prosecutor — who is also his fiancee. This production marks its New York premiere. It is playing at the Abingdon Theatre (312 West 36th Street), and opened July 18th.
The Best of Company
 Two Thirds Home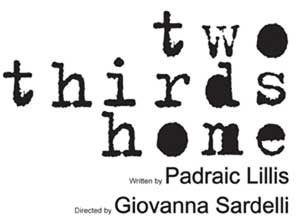 We talk to artistic director, Dre DeCorleto, and writer, Padraic Lillis (also an accomplished director and teacher) of Two Thirds Home, the world premiere of which is being produced by Broken Watch Theater. Two Thirds Home is about sharing secrets and coming to terms with them, while making your life what you want it to be. Paul and Michael find themselves in their childhood home with their mother's lover, just after their mother's funeral. Secrets and truths revealed strain the relationships and self-made identities. It runs July 21st through August 12th at the Michael Weller Theatre (311 W. 43rd St, 6th Floor).
On the Positive Side
Marty talks about many shows he saw over the hiatus, including the Broadway-Bound musical, In the Heights.
Give Marty feedback or column ideas by emailing him at broadwaymarty@aol.com
On the Boards
 Mod
We talk to performers Austin Wages – who also plays guitar – and Craig Fogel, and with book writer/producer/guitar and backup vocals by Paul Andrew Perez. They perform two songs: "When She Walks," and "Best Night of Your Life". The show takes place in a small American town in 1964. The British Invasion and Beatle-mania is in full-force.  A young man named Rory, who dreams of becoming the fifth Beatle, finds himself with a nerve-wracking opportunity to meet the Fab Four.
For more information, click here .
Top of the Trades
The Drama Desk winners recieve their trophies.
The Legally Blonde CD was released with a signing at Virgin Records.
LoveMusik has been recorded!
Curtain Call
Beauty and the Beast and Grey Gardens are in the final two weeks of their runs! Get tickets now!
Check out the Hairspray movie! Coming out July 20th!
Comments
comments